We Will Walk in Her Steps is the fifth in a series of walks which have been developed under the auspices of the Boston Women's Heritage Trail by teachers and students in the Boston Public Schools. This walk was developed in 2011 by second graders in Vera Johnson's class at the Joyce Kilmer School in West Roxbury. The Trail honors women whose contributions have enhanced the community and the quality of life in West Roxbury. It was developed to teach the students Community Service Learning through biographies of women residents. The students also learned how children and women lived "then and now." If you are interested in developing a trail in your neighborhood, please contact us. We'd be glad to help!
The Trail
Begins: At Beethoven Elementary School, 5125 Washington Street
Evelyn Shakir
Beethoven Elementary School, 5125 Washington Street
Evelyn Shakir (1938-2010), a longtime resident of West Roxbury, attended the Beethoven School and Girls' Latin School, and received her undergraduate degree from Wellesley and post-graduate degrees from Harvard and Boston University. Evelyn was a news writer and reader on "The Arabic Hour" television program, wrote many articles on Arab American literature, and published a book, Bint Arab: Arab and Arab American Women in the United States. In this book—the story of women from the Arab world, their daughters, and granddaughters during the past century—Evelyn talks about her own experience growing up in a Lebanese American family and community. Evelyn was a professor at Bentley College. She shared the following wisdom with young people: "Learn as much as you can about the world, read, travel, listen to others, but don't let anyone else do your thinking for you."
Sophia Willard Dana Ripley and Margaret Fuller
Brook Farm, 670 Baker Street
In 1841, Sophia Willard Dana Ripley (1803-1861), along with her husband George Ripley, a Unitarian minister, founded Brook Farm, a utopian community of writers, thinkers and farmers. Sophia wrote letters about her life at Brook Farm and also taught the children who lived there. After Brook Farm closed in 1846, she continued to do charity work and write books. There once was a Boston Public School named after her on Temple Street in West Roxbury.
Margaret Fuller (1810-1850) sometimes came to stay at Brook Farm. She was one of the most famous writers and thinkers of her time. She frequently spoke out for equal rights and opportunities for women. She was the first editor of the journal, The Dial, from 1840-1842.
Alice Hennessey
Millennium Park, 300 Gardner Street
Alice Hennessey (1933-2017), a resident of West Roxbury for more than 45 years, was involved with the schools, the Friends of the West Roxbury Library, the playgrounds, the Girl Scouts, her church, the West Roxbury Historical Society, the Democratic Ward Committee and many other ventures. She also founded the West Roxbury Friends of Rosie's Place. Alice was director of the Menino Project, which developed a new use for the former Gardner Street landfill: the new Millennium Park opened on the site on November 18, 2000. Alice believed: "Women initiate ideas and carry out projects that involve the entire community and give them a pride of ownership."
Senator Marian Walsh
Bellevue Hill
Senator Marian Walsh (b. 1954) served nine terms as Senator in the Norfolk and Suffolk District. Senator Walsh protected Bellevue Hill from development by the cellular communication industry and succeeded in obtaining funding for the preservation and restoration of Bellevue Hill Tower. Senator Walsh, a longtime resident of West Roxbury, has demonstrated leadership in various issues such as law enforcement, Bellevue Hill, the environment, mental health care, education, and business development. For this service she has received many honors, including Legislator of the Year, from groups such as the Environmental League of Massachusetts and the State Police Association. In her words, "I am strongly encouraged to see so many women taking leadership roles in our community and throughout the state."
Pamela Seigle and Ellen McGill
Billings Field, LaGrange and Centre Streets
Pamela Seigle is a former classroom teacher, school psychologist, and staff developer. She helped develop the Open Circle Curriculum, a character-building program. Presently, Pamela is the founder and executive director of the Reach Out to Schools Social Competency Program and a community activist in Boston. She is president of the Community Playground Project, Inc.
Ellen McGill, an artist and activist and West Roxbury resident, has worked on many community art projects. In 1996, Ellen organized local children to paint the Billings Field House mural, one of the centerpieces of a well-loved and well-used community space. Formerly an art teacher in the Boston Public Schools, Ellen continues to show her work at the West Roxbury Library and local galleries. In 1986, she began her business of wedding flowers, Flowers and Finery. In the 1990s, Ellen began teaching art to children in small classes in  her studio and annually offers a full scholarship to a student at West Roxbury's R. G. Shaw School. In 1999 she painted a mural with children at the Stonehedge Nursing Home. With other parents, Ellen organized the first major landscaping of a Boston Public schoolyard at the Lewenberg School in Mattapan. She is an active volunteer for the AIDS Action Committee and a literacy volunteer in the Boston Public Schools.
Westerly Burial Grounds and Mary Draper
2009 Centre Street
The Westerly Burial Grounds were laid out in 1685.
Many of West Roxbury's early residents, including members of the Draper family, are buried here.
A member of the prominent Draper family, Mary Draper (1719-1810) helped run the family's tavern near the present-day Dedham town line. During the Revolutionary War (1775-1783), Mary helped the soldiers of the Continental Army. She used her linens to make clothes for them, and she melted down her pewter to make bullets. Mary also fed all the soldiers who came to her home. In 1904, the Daughters of the American Revolution erected a memorial to her in the garden of the West Roxbury Library. Draper Pool and Park, 5279 Washington Street, are named after her.
Hannah Davis Richards
1970 Centre Street
The Richards family owned a tavern located at this site. Several decades before Hannah was born, George Washington stopped by the tavern for food and drink. Her grandfather built the first schoolhouse in West Roxbury, the Baker Street School, a one-room K to 5 school, and Hannah Davis Richards (1804-1863) taught there. Hannah kept a diary which is now an important source of information about West Roxbury in the early 19th century.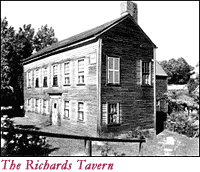 West Roxbury Branch Library
1961 Centre Street
The West Roxbury Branch Library is one of the busiest libraries in Boston. It is also the home of the West Roxbury Historical Society. The Society has many artifacts and information about the history of West Roxbury. The first schoolhouse was built on this site in 1767. It was the only schoolhouse in West Roxbury for many years. Alice Hennessey and Pamela Seigle energetically worked on the committee to build an addition to the library, and Ellen McGill volunteers here.
Barbara Henry (b 1932) grew up in West Roxbury and attended Girls' Latin School. In high school, she met students from diverse ethnic backgrounds. After she graduated from college, Barbara taught the children of Air Force personnel for two years in Europe. These life experiences prepared her for her role in an historic event. In 1960, shortly after Barbara relocated with her husband to New Orleans, she was asked to teach six-year-old Ruby Bridges. Ruby was the first African American child to attend Frantz Elementary School. Some people did not want Ruby at the school. However, Barbara saw Ruby's potential to learn, and decided to teach her. Barbara and Ruby are still in contact with one another. Barbara's message to young people is, "Live your life truthfully and positively. Consciously think of living your life the right way. A positive attitude makes it easier for you to do something when crises come." You can read more about Barbara and Ruby in two books at the library: Ruby Bridges by Robert Cole and Through My Eyes by Ruby Bridges.
Helen Arnold
Theodore Parker Church, 1859 Centre Street
Helen Arnold (1885-1974), wife of Rev. Harold G. Arnold, pastor of this church from 1913-1948, resided in West Roxbury for over 60 years. She was a literary enthusiast and a horticulturalist, especially noted for her work at the Arnold Arboretum. Helen was the U. S. representative to the Bronte Society for 22 years and editor of the  Emily Dickinson Yearbook. She was active in the Lend A Hand Society of Boston and a lifelong friend of Helen Keller. In 1952, she and her husband received a bronze medal from the Mass. Horticultural Society for the restoration of their garden on Emmonsdale Road, current site of St. George Orthodox Church.
Betsey Draper
1721 Centre Street
A well-known member of the Draper family, Betsey Draper (1784-1871) ran the local dry goods store at this site. When the town's collection of books grew beyond one hundred volumes, Mrs. Elizabeth Corey gave the collection to Betsey to house in her store. Residents of West Roxbury would go to Betsey's store to read the books and socialize. Many people think of Betsey as the first librarian of West Roxbury.
Louise Washington
Lou's Tailor Shop, 115 Park Street
Louise "Lou" Washington was born and raised in Mississippi. She started to sew when she was five years old by making doll clothes. Over the years, Lou worked for many tailors until she gained the confidence to work for herself. She used her talent to start her business in 1968 in West Roxbury, where she is still located. Lou decided to live in West Roxbury so she could walk to work. Lou encourages herself and others with the following words: "Anything is possible. If someone else can do it, so can I."
Note: Lou's Tailor Shop has moved to 173 Stratford Street.
Judge Kathleen Coffey
West Roxbury District Court, 445 Arborway
Judge Kathleen Coffey is the first woman Chief Justice of the West Roxbury District Court. She graduated from Boston College Law School and has been a judge since 1991. Judge Coffey has worked with youth sports groups, and has a long record of civic activity. In 1998, the Patriot's Trail Girl Scouts honored her. The West Roxbury District Court, located in Jamaica Plain on the Arborway, handles cases from West Roxbury, Roslindale, Jamaica Plain, and Roxbury. All of these areas were once part of Roxbury. Judge Coffey advises young people: "Always do your best. Take positive risks. If someone tells you it has never been done before, let that be a challenge to you to make it happen. With God's help, everything is possible."
Project of Kilmer Elementary School, Principal, Thomas E. Byrne Jr.
Support from: The Blossom Fund, IMPACT II Teacher Network, AT&T.
Thanks to: Susan Dolan, Margaret Flagg, Jean Gibran, Reverend Robert Haney, Barbara Locurto, Sylvia McDowell, Ellen McGill, Gretchen O'Neill, Mary Smoyer, Bob Murphy.
Research provided by: West Roxbury Historical Society, Schlesinger Library, Radcliffe Institute.
Photographs by Ellen McGill.
Created in 2011.
Trail Feedback Form
If you have comments about this tour you'd like to share with us, fill out the form below. Did you like the tour? Was it easy to follow? Are we missing any women who should be included in this tour? Please provide your contact information if you'd like a response.