The South End Women's Heritage Trail is the first in a series of walks which have been developed under the auspices of the Boston Women's Heritage Trail by teachers and students in the Boston Public Schools. This walk was developed by third graders in Paul Thompson and Jan Wellman's class at the Blackstone School in the South End. The students contacted local women-led organizations which are doing important work in the community, researched their history, and conducted telephone interviews. They chose a name for the walk and designed the logo. Wearing special T-shirts, the students conducted a public tour, learned their very own "herstory" song and made a quilt. If you are interested in developing a trail in your neighborhood, please contact us. We'd be glad to help.
The Trail
Begins: The Blackstone School at 380 Shawmut Avenue
Kip Tiernan
The Blackstone School, 380 Shawmut Avenue
The South End Women's Heritage Trail begins here because it is very near the home of Kip Tiernan. In 1974, Tiernan founded Rosie's Place, a shelter where homeless women and their children are treated with dignity and unconditional love. Today, Rosie's Place has four separate lodgings, serves 200 meals a day, and has 300 volunteers. The Blackstone School teaches its students to care for their community just as Kip Tiernan and Rosie's Place do.
Myrna Vasquez
Inquilinos Boricuas en Acción (IBA), 405 Shawmut Avenue
Here we celebrate the life of Myrna Vázquez (1935-75). She was an actress, born in Puerto Rico. After she came to Boston, she worked hard to encourage the people in her neighborhood to learn English so they could help themselves. Casa Myrna Vázquez, the largest domestic violence shelter in New England, is named after her because of the love she gave to and got back from the community. She also started a Puerto Rican festival in the South End. IBA serves the community in many ways, just as Myrna Vázquez did in her short lifetime.
Maria Louise Baldwin and The League of Women for Community Service
558 Massachusetts Avenue
The first president of the League of Women for Community Service was Maria Louise Baldwin (1856-1922). But she is best known as an outstanding teacher and principal. She was principal, then "master" of the Agassiz School in Cambridge for over 30 years – the first African American master in New England. After she retired, she moved to the South End. Baldwin was also a brilliant lecturer, often speaking against racial discrimination and praising the achievements of Black Americans. Over the years, the League has offered many services to people of all ages. Before the Civil War, the building was a safe house on the Underground Railroad.
Note: The Agassiz School in Cambridge was renamed The Baldwin School in 2002.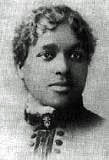 Melnea Cass and the Women's Service Club
464 Massachusetts Avenue
Here we honor Melnea Cass (1896-1978) who was president of the Women's Service Club, which celebrated its 80th year in 1999. Known by all as the "First Lady of Roxbury," Cass encouraged women to vote in the 1920s, tried to make big stores and hospitals hire African Americans, helped found Freedom House, was president of the Boston chapter of the National Association for the Advancement of Colored People (NAACP), a charter member of the anti-poverty agency Action for Boston Community Development (ABCD), and demonstrated for integrated schools in Boston in the 1970s. In 1974, she was named Massachusetts' "Mother of the Year."
Harriet Tubman House and United South End Settlements
566 Columbus Avenue
This site honors Harriet Tubman (1822-1913). Born into slavery (her real name was Araminta), Tubman escaped in 1839 and lived most of her life in New York. But she went back to slave territory 19 times, risking her life to lead over 300 slaves to freedom on the Underground Railroad and earning her the title "Black Moses." Poet Eloise Greenfield wrote, "Harriet Tubman didn't take no stuff, wasn't scared of nothing neither." The site was the first settlement house in the United States (1891). Besides housing a day care center and other services, Harriet Tubman House has photos and exhibits on Harriet's life.
Note: The Harriet Tubman House closed in 2020.
E. Virginia Williams and The Boston Ballet
19 Clarendon Street
There would be no Boston Ballet without E. Virginia Williams (1914-84), its founder (in 1963) and artistic director. She began dance lessons at age seven to help overcome shyness. For the first six months of her lessons, she would not even get up from her chair! But she was performing by age 12, and went on to become an outstanding and beloved teacher and imaginative choreographer. The Boston Ballet is the fourth largest professional ballet company in the nation.
Home of Louisa May Alcott
Peters Park, Shawmut Avenue and Dwight Street
Before it was a park, this site was Groton Street, a home of Louisa May Alcott (1832-88), one of America's most famous authors. Alcott's best known book is Little Women. She was also a nurse during the Civil War. Alcott probably would like Peters Park. Like Jo in Little Women, she loved to play and have fun.
Thanks to Expeditionary Learning Outward Bound, Boston Ballet, Harriet Tubman House, IBA, the League of Women for Community Service, the Women's Service Club.
Thanks to IMPACT II, Meg Campbell, Barbara Elam, Charlotte Harris, Polly Kaufman, Barbara Locurto, Sylviia McDowell, Mary Smoyer, Joyce Stevens.
Pamphlet by Gretchen O'Neill and Jan Wellman.
Students: Efrain Amaro, Eddie Arnold, Yssa Askey, Tiffany Carter, Alicia Edwards, Josue Estrada, Calvin Feliciano, Angie Felix, Yaritza Fontanez, Alex Gonzalez, Kristin Hallett, Nicole Henderson, Miguel Lopez, Marlindsey Manual, Michelle Ortiz, Marisa Therous-Jones, Olayimikia. 
Created in 1994.
Trail Feedback Form
If you have comments about this tour you'd like to share with us, fill out the form below. Did you like the tour? Was it easy to follow? Are we missing any women who should be included in this tour? Please provide your contact information if you'd like a response.