Stepping Back, the Roxbury Women's History Trail, is the fourth in a series of walks which have been developed under the auspices of the Boston Women's Heritage Trail by teachers and students in the Boston Public Schools. This walk was developed by first and second graders in Mary Smoyer and Alma Wright's classes at the William Monroe Trotter School in Roxbury. After gathering names of important local women, the students interviewed the woman herself, or a family member, or an expert on the woman. They walked through the neighborhood, chose a name for the walk, and designed the logo, and produced a coloring book celebrating the trail women. Wearing blue caps decorated with the trail logo, the students conducted a tour for fifth graders who had designed their own trail in Charlestown. If you are interested in developing a trail in your neighborhood, please contact us. We'd be glad to help!
The Trail
Begins: William Monroe Trotter School at 135 Humboldt Avenue
Maude Trotter Steward, Geraldine Pindell Trotter, Barbara Jackson, Thelma White
William Monroe Trotter School, 135 Humboldt Avenue
Maude Trotter Steward (1874-1955), sister of William Monroe Trotter, worked as assistant editor of his newspaper, The Guardian, and published it herself for twenty years after Trotter's death. She attended Wellesley College, and was involved in many local civic organizations. She was one of the founders of the St. Mark's Musical and Literary Union, and worked with the Women's League and the Boston Equal Rights League. She was married to Dr. Charles Steward.
Geraldine Pindell Trotter (1872-1918), the wife of William Monroe Trotter, served as associate editor of The Guardian and worked devotedly and tirelessly with him for the cause of racial justice. She raised money for St. Monica's Home and advocated for African American troops during World War I. After her death, The Guardian included a tribute to her from her husband: he called her his "fallen Comrade" who gave her life "for the rights of her race."
Barbara Jackson was the principal of the Trotter School for 15 years. She liked her job. It was very exciting. She grew up in Roxbury. She likes to bowl and play tennis, and she likes books. During World War II, when she was 18 years old, she made food for the soldiers and entertained them. She was an excellent principal.
Thelma White worked at the Trotter School for 30 years. She worked in the library, the office and as a bus monitor. She went to the Dillaway School, the Bacon School, the Timilty School and Roxbury Memorial High School for Girls. She has four children, three girls and one boy. Everyone at our school loves Ms. White and she loves all of us.
Melnea Cass
Cass House, 140 Humboldt Avenue
Melnea Cass (1896-1978), after whom this building is named, is called the "Mother of Roxbury" because she worked so hard for civil rights, fair working conditions, and good housing in the community. Everyone knew that if they had a problem, they could come to talk with her and she would try to solve it. She loved to read and do math, and she had an excellent memory. She also loved to read the Bible, to cook, and to wear colorful clothes. Mrs. Cass and her husband, Leo, had three children. She received many honors and awards, and even met the Queen of England. Mrs. Cass also helped make sure our school was built so we would have a great school in our neighborhood, and she has a Boulevard named after her.
Roxbury Memorial High School for Girls
Boston Latin Academy, 205 Townsend Street
This school building used to be Roxbury Memorial High School. The building was divided into two sections: the girls were on the Warren Street side and the boys on the Humboldt Street side. The Roxbury Branch of the Boston Public Library was between the two schools, so the girls and boys would try to meet in the library. Ms. White and Ms. Jackson both went to this school.
Mary Eliza Mahoney and Dr. Susan Dimock
Mahoney Dialysis Center, 416 Warren Street
Mary Eliza Mahoney (1845-1926) was the first African American professional nurse. She liked to read and study health and science. A 1879 graduate of the New England Hospital for Women and Children Nursing School, she was such a wonderful nurse that every year the American Nurses Association gives an award in her name to a special nurse.
Susan Dimock (1847-1875) was a surgeon at the New England Hospital for Women and Children. There she founded the Nursing School, which Mary Eliza Mahoney attended. She liked reading and thinking and studying Latin. When the Civil War started, her father died, so she and her mother came to Boston from their home in North Carolina. When she was 17 she went to Europe to become a doctor. She died in a shipwreck when she was only 28. She was beloved by everyone. Dimock Street and Dimock Community Health Center are named after her.
Home of Lucy Miller Mitchell
16 Waumbeck Street
Lucy Mitchell (1899-2002), a pioneer in setting up good quality care for small children, lived here for many years. She helped found Associated Day Care Services of Boston. Born in Florida, Ms. Mitchell went to Mary McLeod Bethune's school: Daytona Normal and Industrial Institute. She knew and worked with Ms. Bethune. Ms. Mitchell received a master's degree in Early Childhood Education from Boston University. She and her husband, Joseph, had two children. Her favorite colors were pink and green. She had strong beliefs and a special determination to succeed. She was a pacesetter for others and always kept her mind active. She helped Muriel Snowden found Freedom House and won many awards for her work. Ms. Mitchell believed you can always find solutions to problems. She was a phenomenal woman.
Freedom House
5 Crawford Street
Muriel Snowden (1916-1988) and her husband, Otto, started Freedom House as a community center for Roxbury. She loved to read and make speeches. Her favorite color was blue and her favorite foods were chicken and strawberries. Ms. Snowden was the first African American woman director at Shawmut Bank, and she won a MacArthur Genius Award for her work helping people. She and her husband, Otto, had one daughter. Ms. Snowden believed one person can make a difference. She worked hard and was really good at getting things done.
Ellen Swepson Jackson (1935-2005) was the founding director of the Freedom House Institute of Schools and Education. She also founded and directed Operation Exodus, an inner city busing program which transported students to less crowded schools. She went to Boston State Teacher's College and the Harvard Graduate School of Education. Ms. Jackson retired in 1998 from Northeastern University, where she was a dean and director of affirmative action. She has been an activist all her life, on both the local and national level, and has received many awards. The Ellen Jackson Day Care Center is named after her.
Elma Lewis
Museum of the National Center for Afro-American Artists, 300 Walnut Street
Elma Lewis (1921-2004) founded the Elma Lewis School of Fine Arts in 1950 on Waumbeck Street. The school gave lessons in the arts, dance and music for children during the day and for adults at night. In 1968 she founded the Museum of the National Center of Afro-American Artists, and in 1969 she staged the first local production of "Black Nativity," which celebrated its 30th anniversary in December, 1998. Ms. Lewis loved the arts and she loved Roxbury.
Home and Office of Jessie Gideon Garnett
80 Munroe Street
Jessie Garnett (1897-1976) was the first African American woman dentist in Boston. She built her office here behind her home. In 1919, she became the first African American graduate of Tufts Dental School, where she earned the nickname "Haze" because she was so fast on the basketball team. She worked as a dentist until 1969 when she had to retire because she had bad arthritis in her hands. She and her husband, Robert, had one son and one daughter.
Childhood Home of Sarah-Ann Shaw
Humboldt Avenue at Munroe Street
Sarah-Ann Shaw, who grew up here in a house which is no longer standing, has been a news reporter for WBZ-TV Channel 4 for 30 years. Her favorite color is red, and her favorite foods are string beans and chocolate mousse. She went to the Boardman School, the Higginson School, Girls Latin School and Boston University. At the Higginson when she won $5.00 for having good manners, it seemed like all the money in the world! Her favorite subject was English, and she loves to read. Mrs. Cass was her Girl Scout Troup Leader. She sometimes feels a bit nervous when she is on TV because so many people are watching. She has interviewed famous people like Jesse Jackson and Mayor Menino.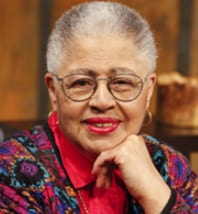 Developed by Grade One and Grade Two students in Rooms B219 and B220. William Monroe Trotter School. Lorraine Broderick, Principal; Albert Taylor, Vice Principal. Mary Smoyer and Alma Wright, Teachers.
Support provided by Boston Globe Foundation, The Boston Women's Heritage Trail, Boston Private Industry Council, IMPACT II Teacher Network.
Special thanks to the people we interviewed: Barbara Andrews, Josephine Chandler, Marianne Freeman, Robert Garnett, Barbara Jackson, Cecelia Joseph, Sylvia McDowell, Brenda Richardson, Sarah-Ann Shaw, Leigh Snowden Trimmier, Thelma White.
Thanks also to: Adrienne Custodio, Barbara Clark Elam, Christina Keiser, Viola Layne, Barbara Locurto, Gretchen O'Neill, Mayowa Osinubi, Hannah Weinstein. 
Created in 1999.
Trail Feedback Form
If you have comments about this tour you'd like to share with us, fill out the form below. Did you like the tour? Was it easy to follow? Are we missing any women who should be included in this tour? Please provide your contact information if you'd like a response.