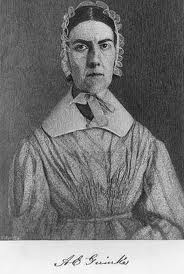 Saturday, March 9 – 2:00 pm
Hyde Park Main Streets' 3nd Annual
Women's History Month Celebration Tea 
This year's program will center on the notable Grimke Family of Hyde Park.  Sisters Angelina (pictured) and Sarah Grimke were among the earliest pioneers of the women's suffrage movement in the United States. 2013 marks the 175th Anniversary of Angelina Grimke's speech before the Massachusetts legislature as the first women in the US to speak before a governing body.
 Special Guest Speakers: Louise Knight, Angelina Grimke Biographer and Amy Benson Brown, Poet
More information: contact Hyde Park Main Streets